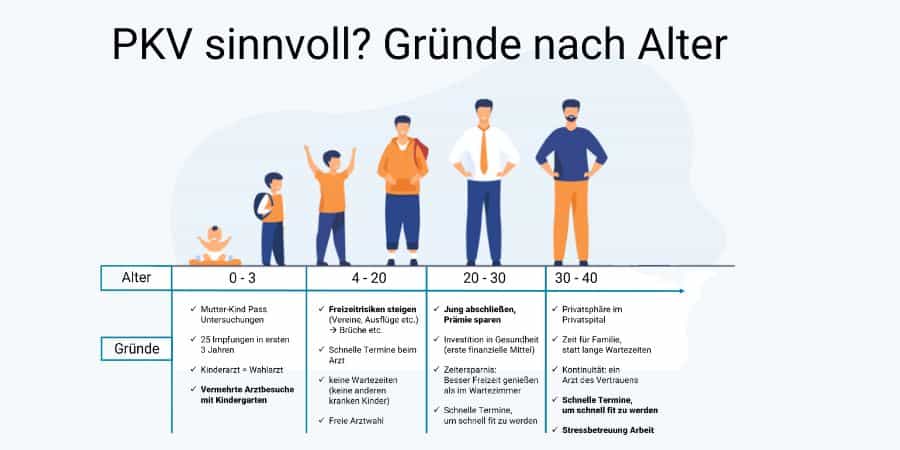 Is private health insurance worthwhile?
The question of whether private health insurance is worthwhile is often hotly debated.
If the benefits of the statutory health insurance are sufficient for you, then the conclusion of a private health insurance is probably less sensible.
Private health insurance can offer benefits in certain cases, such as access to elective doctors and shorter waiting times for certain treatments and operations in private hospitals.
These benefits are only covered by private health insurance.
But is it worth it for me individually?
In the next section, we show you per age group what considerations many of our customers had when taking out private insurance.
We will address the following age groups:
1) Young parents and infants (0 – 3 years)
2) Young sporty adults (20 – 30 years)
3) Junge sportliche Erwachsene (20 – 30 Jahre)
4) Working adults (30 – 40 years)
1) Young parents and infants (0 – 3 years)
Meanwhile, almost all young parents insure their newborns. This is mainly due to the fact that there are almost no public doctors left in the metropolitan areas.


→ 5 mother-child pass examinations in the first year of life.
In addition, regular Mother-Child Passport examinations at an elective pediatrician are relatively expensive over time.
In the first year alone, you'll have to take your newborn to the doctor 5 times. This alone accounts for costs of over €500.
→ Increased visits to the doctor with entry into kindergarten
Who does not know it?
Once the fall season starts, the little ones are sick much more often. And when they enter kindergarten, this becomes even more intense.
In kindergarten, your child is regularly exposed to new bacteria and if you don't have a trusted doctor with available appointments, the regular visits can become "torture."
Also, don't overlook the increased costs associated with regular visits to an elective doctor.
→ No crowded waiting rooms = no risk of infection.
Have you ever had to wait in a crowded waiting room for your appointment?
Now imagine this situation with your newborn or toddler.
With overcrowded waiting rooms, on the one hand, the further risk of infection is higher, and on the other hand, the unnecessary time has to be bridged.
Private health insurance allows you to use elective physicians free of charge, where there is typically no waiting time in the office.
This reduces the risk of infection for your child and also saves valuable life time.
2) Children and teenager between the ages of 4-18
As your child gets older, visits to the doctor are more likely to change.
In the past it was the regular mother-child check-ups, but at a young age, due to the increased risk of leisure time, a visit to the hospital or due to growth, a visit to the doctor is quickly possible.
Is private health insurance worthwhile for young people?

→ Leisure risks increase (clubs, excursions, etc.)
An important component at a young age is social integration.
Thus, many children join sports clubs or similar and can develop well socially there.
But increased leisure activities also increase the risks of injury.
Quickly once
you fall off your bike,
hurt yourself playing soccer, or
sprains your finger playing volleyball.
In many of these situations, parents and teenagers alike do not want to wait forever at the doctor's office and have a trusted doctor at their side even for more complicated fractures.
Also the stay in the hospital should take place in peace and security and not in the 4 or 8 bed room, where the neighbor snores the latest Justin Bieber song.
And also your company in the hospital should not cause any further costs.
Many of these points are thereby uncomplicatedly covered by private health insurance
→ Quick appointments with the doctor & psychological care for teenagers
Similar to babies, teenagers don't want to have to sit out their time at the doctor's office, and with increased school stress and puberty, there are other new challenges that may require psychological support.
But the choice of doctors and getting second opinions should not be underestimated at this age.
sollte in diesem Alter nicht unterschätzt werden.
Young athletic adults (20-30 years)
Once the first money has been earned, life is certainly easier after training or studies.
However, if injuries happen again and again at a young age – due to sports – one quickly comes into contact with the system of statutory health insurance.
And many young – motivated professionals – don't want to wait weeks to recover from their latest accident.


→ Take out young, save on premiums
If your parents have not yet made health provisions for you at a young age, many young sporty adults between the ages of 20 and 30 are looking into private health insurance.
The first money is earned, but to spend this completely for the insurance, does not float many.
One point should always be kept in mind: the earlier one takes out private health insurance, the more favorable the premium.
Even over a lifetime.
But how is that possible?
Quite simply.
Your young contract will only be adjusted for inflation over the years.
A new contract always includes the age risk and thus the premium increases quickly exponentially – i.e. more than inflation – especially for people over 45.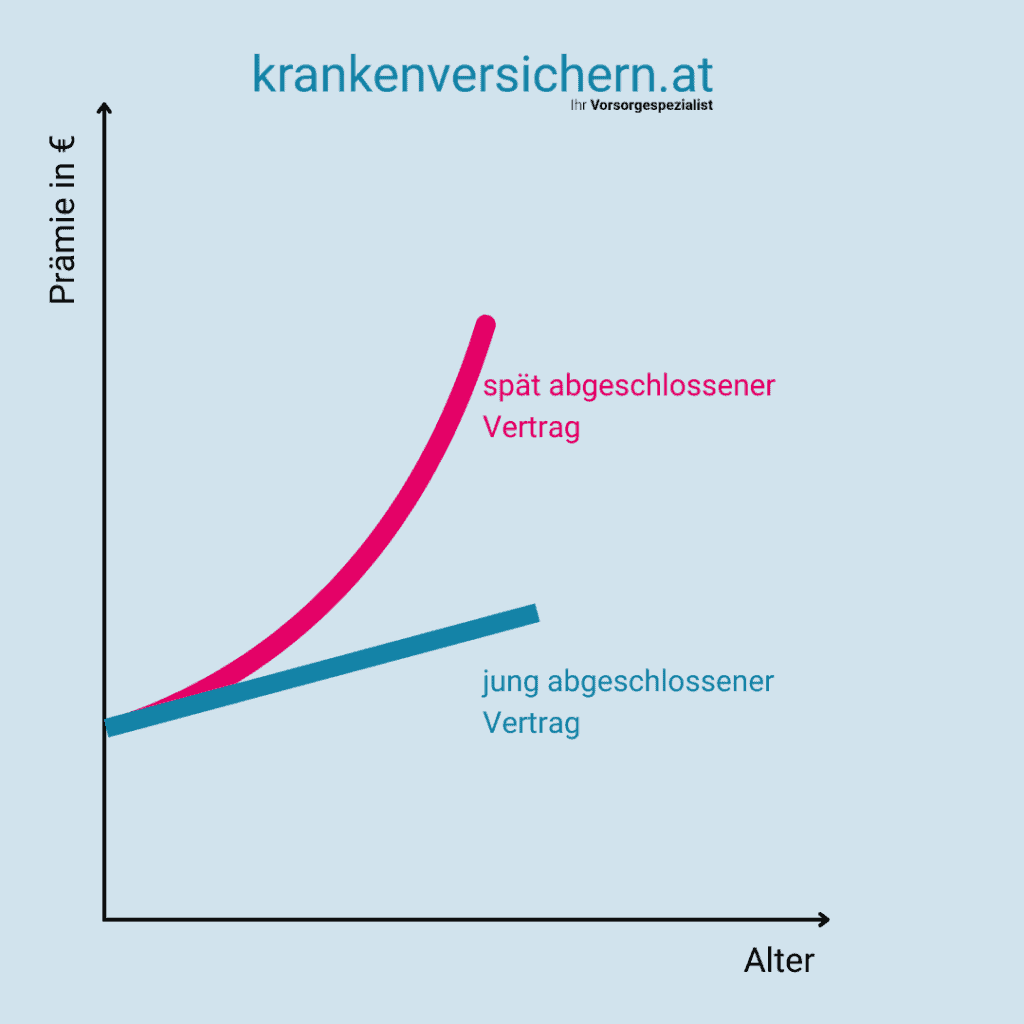 →Time savings: Better to enjoy free time than to sit in the waiting room.
Especially in your younger years, leisure time is probably more important to you than sitting safely for hours in an office waiting for the free appointment with the doctor.
But also the regular checkups at the ENT doctor or at the ophthalmologist should be done without long waiting times in the office.
And also in the professional context, many young professionals are interested in quickly becoming active again in the job for which they have put up with years of training or even study.
Working adults (30-40 years)
For many people who are between 30 and 40 years old, private health insurance is a good way to protect their health.
Those who have income from their jobs can take advantage of the benefits of private health insurance.

One of the biggest advantages of private health insurance is that it offers a certain amount of flexibility. For example, you can decide which treatment methods you want to use and also which services you can afford.
In addition, private health insurance often offers more benefits than other types of insurance. This means that in the event of an illness, one receives more support and recovers more quickly.
→ Fast appointments for fast recovery
Private health insurance in Austria is a great way to get appointments quickly and easily.
Many doctors often admit privately insured patients directly into the treatment room, which can significantly reduce waiting times.
Many doctors are also more flexible than those with public health insurance when it comes to scheduling appointments. As a rule, you do not have to wait long for a doctor's appointment.
And flexible office hours are especially important for working people, so that they can have the appropriate examinations after work or at the weekend.
And finally, it must be said that the quicker the appointment with the doctor, the quicker the recovery typically is.
→ Stress management in everyday life
Many adults complain about persistent everyday stress at work.
And especially with the increased digitalization and the accompanying fast-paced everyday life, psychological problems can also arise again and again due to stress.
Here, private health insurance can help to use private psychological care or coaching and consciously address the fears or problems.
And possibly also once the assumed massage helps to escape from everyday life and enjoy a few quiet minutes.
→ Continuity: a trusted doctor (diagnosis & surgery).

Possibly you have already had the situation. You are riding with your loved ones and suddenly you crash your bike.
The hand hurts, but you continue riding.
The next day, the hand swells more and more and it becomes clear to you: you need to see a doctor.
Your friends already have experience with a special accident orthopedist whom you consult.
The doctor convinces you with her professional competence and comes to the conclusion that your hand is unfortunately broken. And it is also relatively complicated.
She suggests that you have the operation done in a private hospital.
Your doctor is always by your side and the operation goes without complications.
After a few weeks your hand is completely healed.
And it is these steps, having the trusted doctor with you throughout the process, that many customers find particularly important.